With so many property completions taking place in December, it's highly likely that someone on your Christmas list has either just moved home or is gearing up to do so. With this in mind, we thought it would be nice to give you last-minute shoppers some great gift ideas aimed specifically at those movers. These perfect presents are both thoughtful and useful, which will ensure you'll be invited over in the new year! 
Let's take a look…
Food hampers
Moving home at any time of year can easily result in one too many takeaways being consumed...and Christmas is definitely no different! So, why not help out by buying the movers a fabulous food hamper? Whether the hamper comes from Fortnum and Mason, John Lewis, M&S, Harrods, or The British Hamper Company, it's sure to be a welcome gift for those whose entire kitchen is still pretty much packed away in boxes. 
House plants
A few years back, this could have been considered a relatively dull and unimaginative idea, but not any more. House plants are extremely popular at, ahem, present, and there's a wide enough range to suit every taste and wallet. From tiny succulents, which are ideal for that tiny bathroom nook, all the way up to an impressive Areca Palm, you'll definitely be able to find something fitting to give to your movers. 
Tool kit
More practical than festive, perhaps, but for those who are moving into their very first property, a tool kit full of essential items is an absolute must have. You don't have to go overboard here (although you could, of course), just an easily stowed away box with common everyday tools like screwdrivers, allen keys, pliers, and such will be gladly received by any new homeowner.
Cafetiere and coffee

This one will be especially welcomed by those who are completing in the final week running up to Christmas. What with everything else going on, it's highly likely that their non-essential kitchenware will remain packed away until the new year. For many, though, coffee is an absolute essential that they will be kicking themselves for not packing in the 'open immediately' box. Give the gift of an upgraded cafetiere and a bag of craft coffee to put an end to those instant, freeze-dried woes.
Gardening essentials
Read more: Last Minute Christmas Gift Ideas For Property Movers
Sure, we all love the idea of turning our house into Santa's grotto. But when it actually comes down to it, the process of actually visiting a Christmas tree farm, lugging the chosen one home, and shelling out for decorations too can seem a little OTT when both time and budget are limited. And who's going to volunteer to hoover up pine needles anyway?!
Well this year you can forget all about heading to Poundland to only come home with crinkled plastic and lingering disappointment. We've got the perfect solution.
Meet the alternative Christmas tree. The super cool festive beauties that will see you through many Christmases to come.
Round up your flatmates, get that festive kitty started, and invest in one of these...
1. The wooden one
Coming in at £55 on Cox & Cox, this rustic hanging tree is perfect for lovers of minimalist interiors. Decorate with as many or as little hanging ornaments as you want – the best thing about this alternative tree is how little space it takes up. It just hangs from a hook on your wall.
2. The lit one
Let's face it: nothing screams "holidays are coming" more than twinkly lights literally EVERYWHERE – and why should your house be the exception to the rule? Forget the strings of tacky cheap fairy lights this year, and invest in a cool light up tree instead. This £34.99 one from christmastreesandlights.co.uk will cost a is a small price for making your days merry and bright (and Pinterest-worthy).
3. The metal one
Metal isn't the most obvious material to make a tree from, but a more minimalist design means the decorating choice is all yours. This one from Sklum costs £44.59 and comes in a choice of colours – and it's lightweight enough to be moved around as you please. We think it'd be beautiful with fairy lights wrapped around it and a few simple decorations hung from the hooks.
4. The millennial one
As many of you will already be aware, the latest phase of the Government's drive to improve the energy consumption of domestic properties comes into force next April, and now is the perfect time to act if you are a landlord in England or Wales. The legislation, first introduced back in 2018, is part of a huge effort to bring emissions down to zero by 2050, and landlords need to take heed if they haven't done so already. 
The EPC story so far…
Last April saw the law change to prohibit new tenancies being granted for properties whose Energy Performance Certificate (EPC) rating fell below band E. This year, however, the rule extends to ALL domestic properties, so even existing tenancies are going to need to meet or exceed the band E cut off point.
So, if you're property is currently sitting at either F or G, you haven't got long to get your house (or flat!) in order if you want to remain compliant and avoid some rather hefty penalties. Thankfully, there are a few simple things you can consider that may move the needle enough to get you out of trouble in the short term, and we're going to explore a few of those today.
Unless you are extremely lucky, you will probably spend a fair amount of time visiting endless houses in search of the PERFECT property. It can be quite a stressful time and somewhat of an emotional rollercoaster.
Once you have found a property you feel you like, make sure you learn as much as possible about it. Even if it seems perfect at first glance, try to think about it from all angles and above all, don't let your heart rule your head.
Your perfect home
Before you have even chosen your first house to view, it may be worth spending time creating an image of your perfect house. Make a list of the various features you want your perfect house to have. These features should cover the obvious criteria such as the size of the house and the number of bedrooms and bathrooms but also criteria relating to the environment in which your house will be located as well as special needs that will relate only to you.
This time our blog subject is a little different to the usual. As winter draws in and Christmas is closer with every week, we decided to dedicate this blog to the beautiful countryside and UK's prettiest villages you might visit during the holidays this year.
If you've always dreamed of living in such a beautiful location, then consider moving to these villages across the UK. These picture postcard villages are stunning in the summer, but when a dusting of snow falls over winter they take on a magical quality.
Just take a look....
Castle Coombe, Wiltshire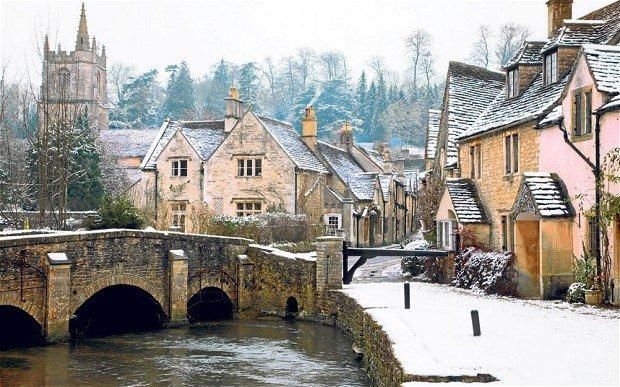 Originally, Castle Coombe was a British hill fort which became occupied by the Romans due to its proximity to The Fosse Way. After the Romans came the Normans, who built the fort up into a Castle.